Having decided that March is not a good month for the initial riding season to start, and having had the previous two March rideouts cancelled due to inclement weather, I was very pleased to see a dry forecast for this months event. Seventeen riders turned out at Montford Bridge and after the obligatory coffee and bacon bap headed off over the hills to Bala for a leisurely morning coffee break. Lunch was at Tanygrisiau café which was bathed in glorious sunshine, the likes of which have not been seen on my rideouts for some years. I think the nickname of 'Rain Bringer' is grossly unfair. After lunch the group travelled onwards across some very scenic hilltops to Rhug for afternoon tea. The guess the mileage competition was won, due to an almost tied guess by Alex Collier and Simon Plevin who both guessed within 0.5 of a mile (133.5miles)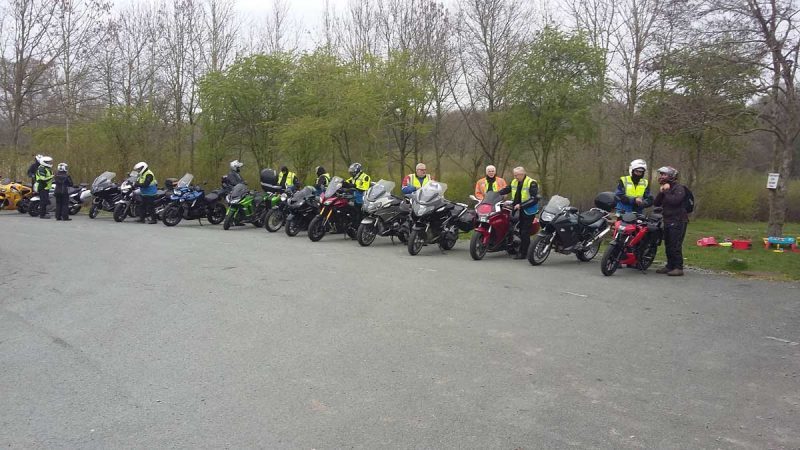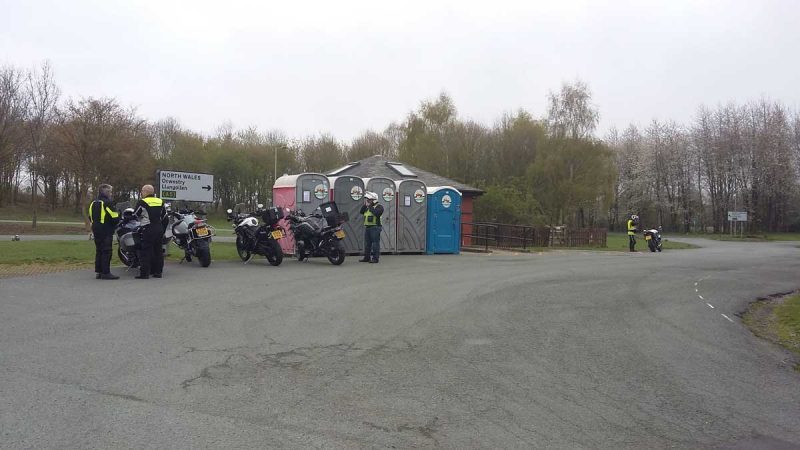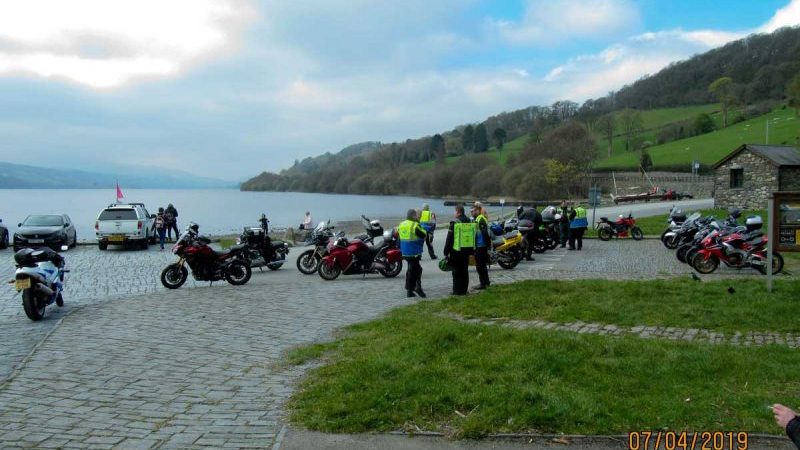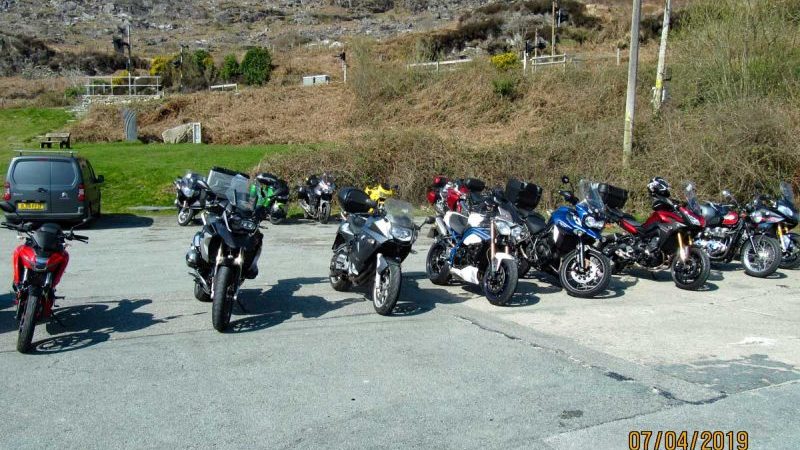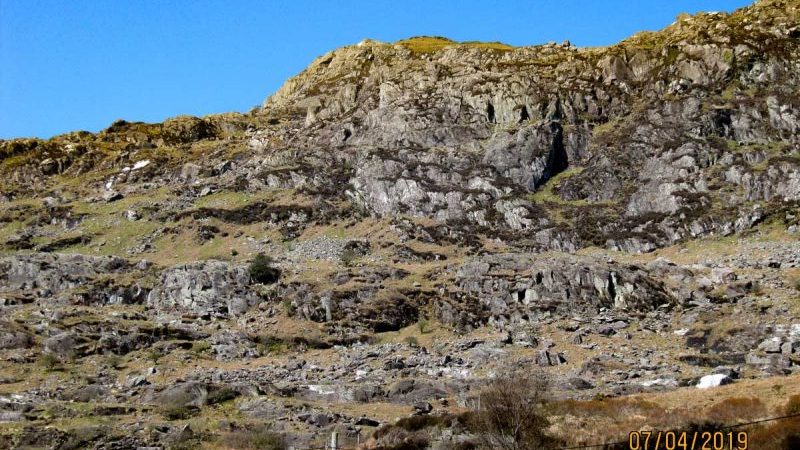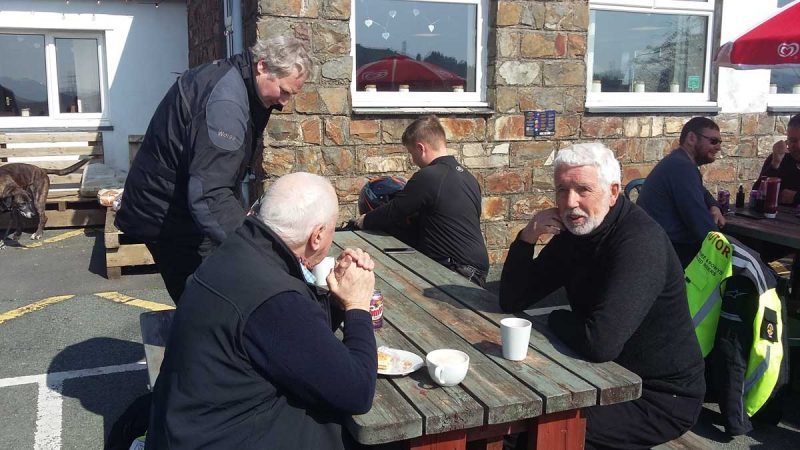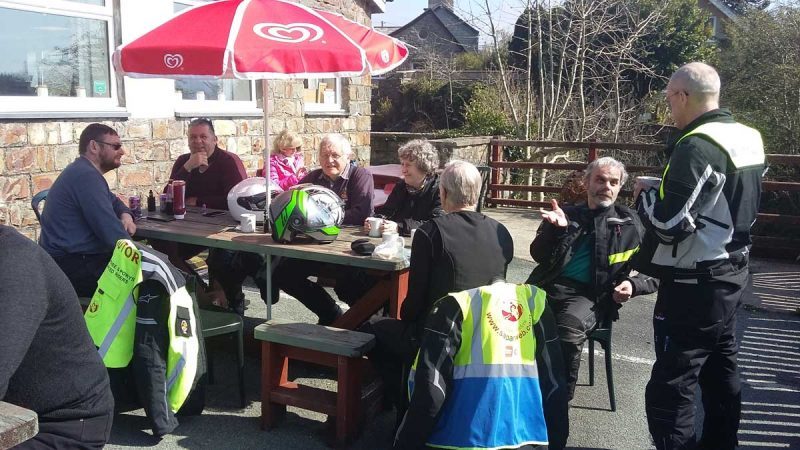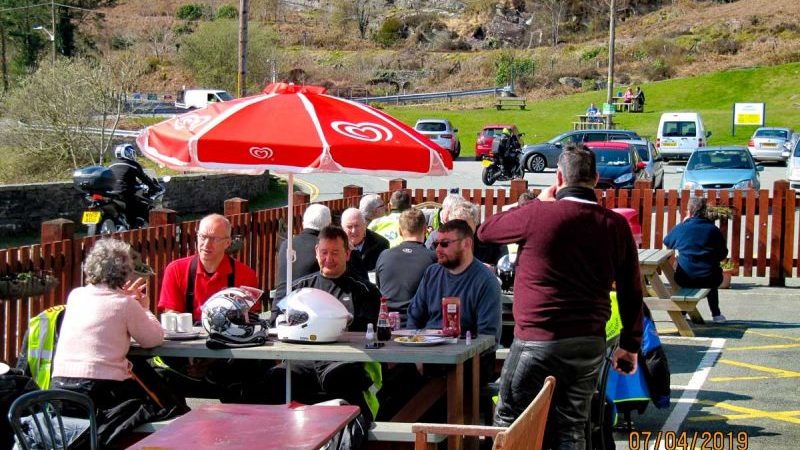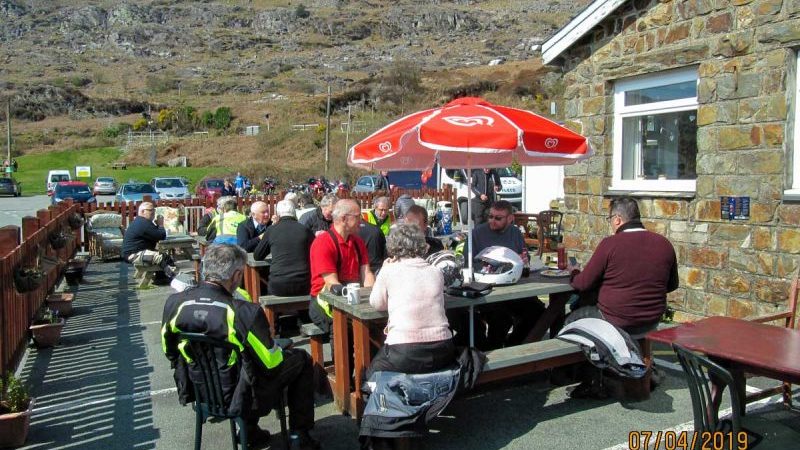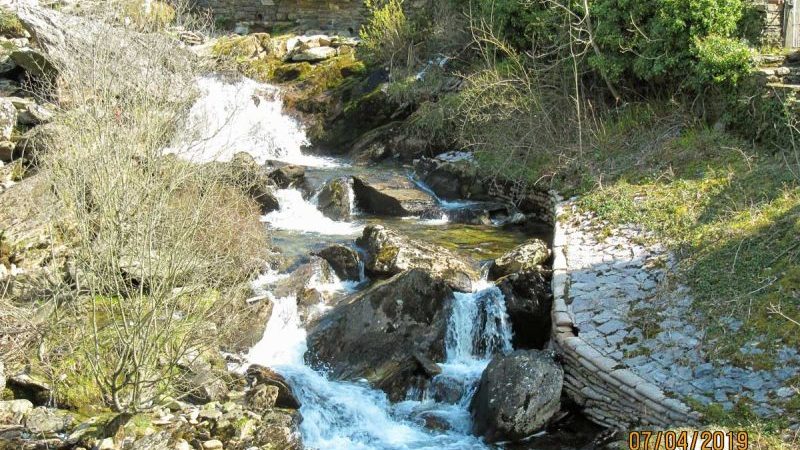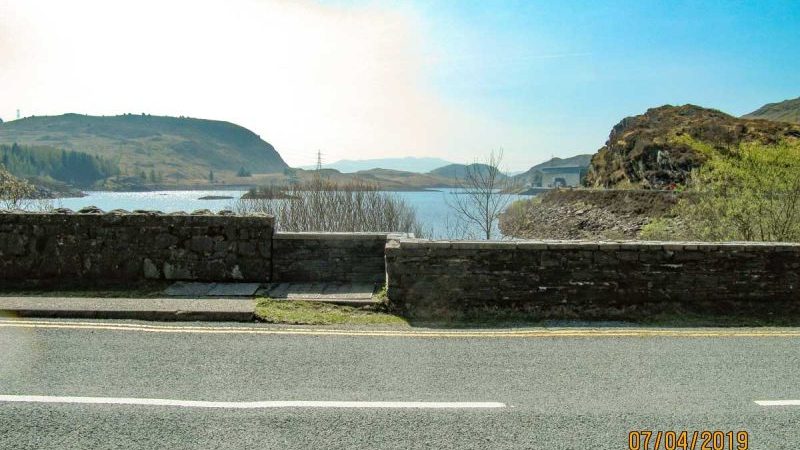 Ride Leader – Ken Swinton
Tail End Charlie – Glyn Jones
Photos courtesy of Ken Swinton & Bill Croxon
The May rideout was created, organised and led by Charles Bridgeman who took a small group of members on a scenic route to his ancestral home at Weston Park located at Weston Under Lizard, Shropshire. Mercifully the weather was excellent albeit a tad chilly first thing but soon warmed up under the bright blue skies and brilliant sunshine. On arrival at Weston Park Charles gave us a potted history of his early days in the big house before finding a secluded stretch of road, private of course, where for a short period of time we allowed ourselves to behave like hooligans without the worry of many, many points being added to our licence. Frivolities over we ventured to the Granary Deli for lunch before strolling through the grounds which were originally designed by Capability Brown and have been preserved in a sympathetic way that maintains a mix of many different species of trees and other plants. Having topped up our wildlife and nature skills it was time for some culture. A tour of the house was led by the curator Gareth Williams assisted by Charles who between them provided a lengthy commentary and descriptions of the many interesting artefacts scattered around the house. The house tour ended with a look into Charles bedroom from when he was much younger, This is now a very expensive guest room and thankfully all remnants of Pink Floyd and Suzi Quattro posters have been removed.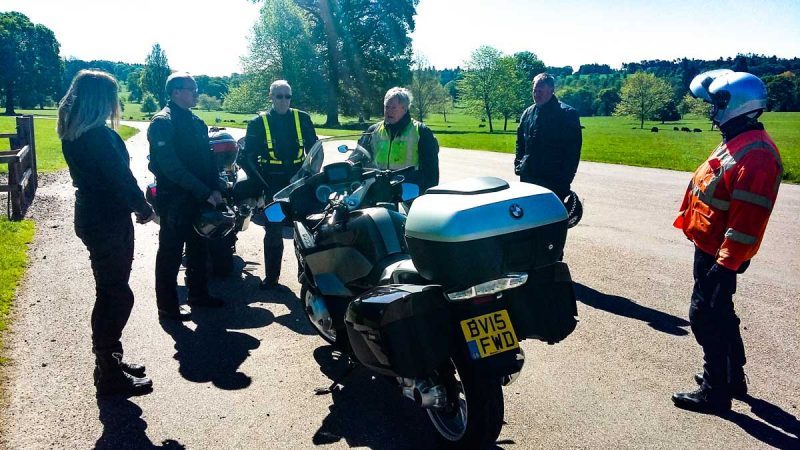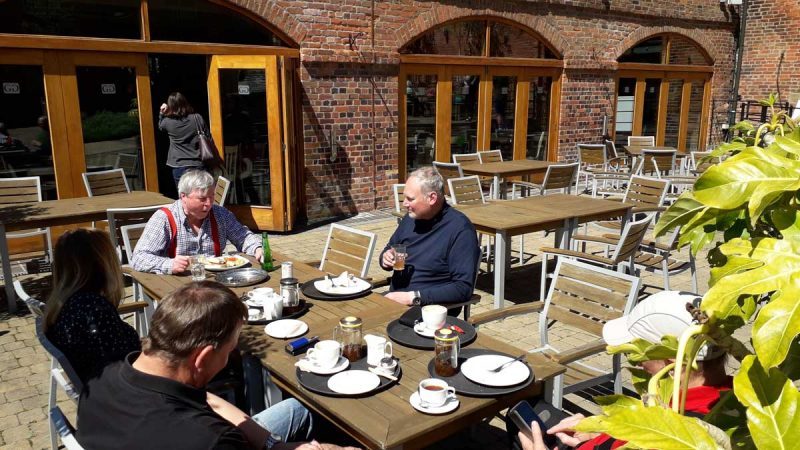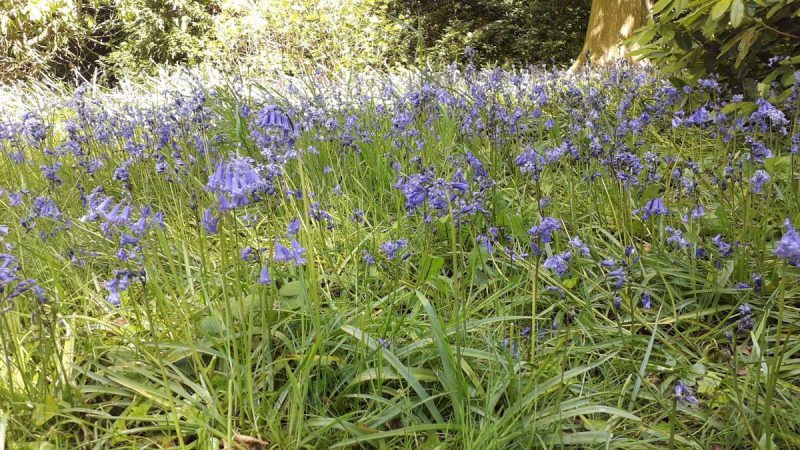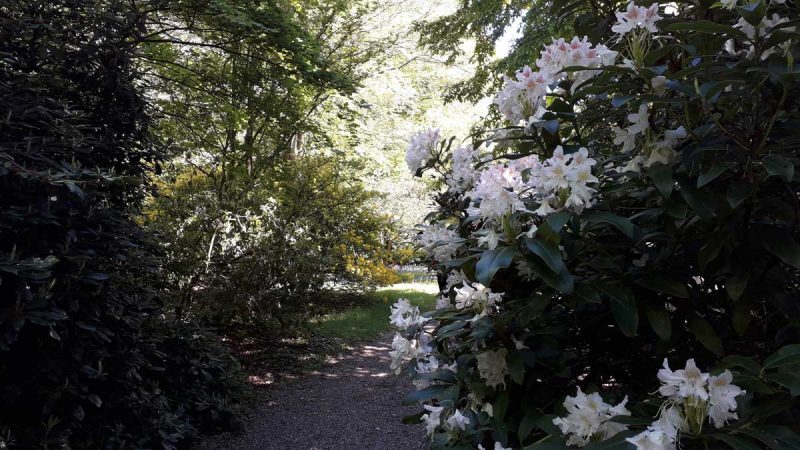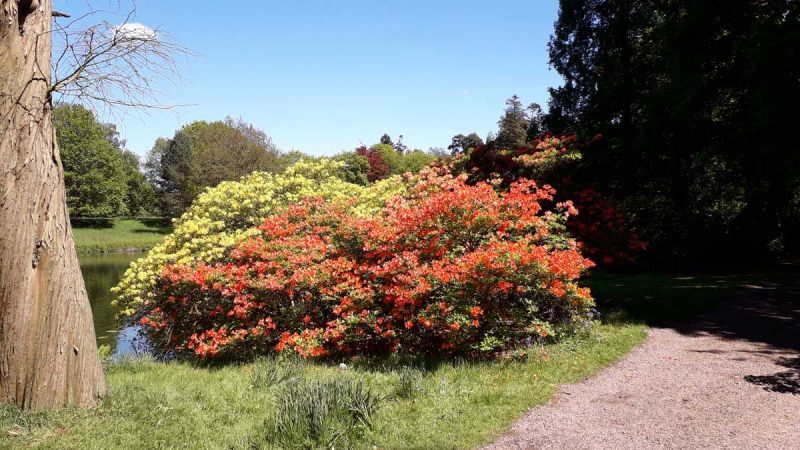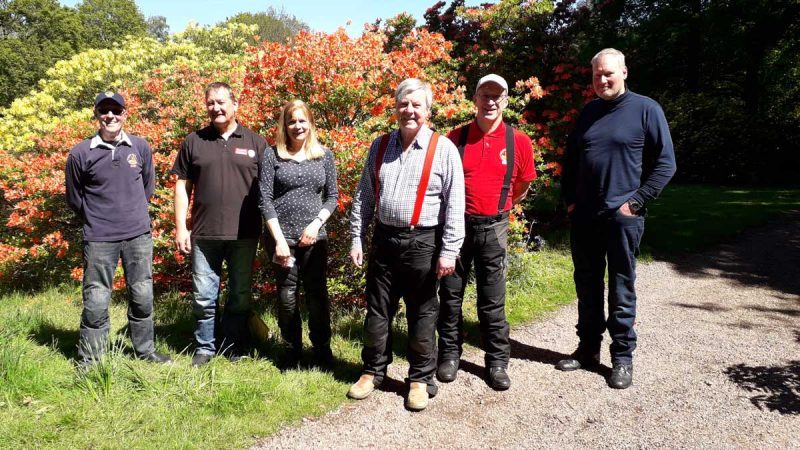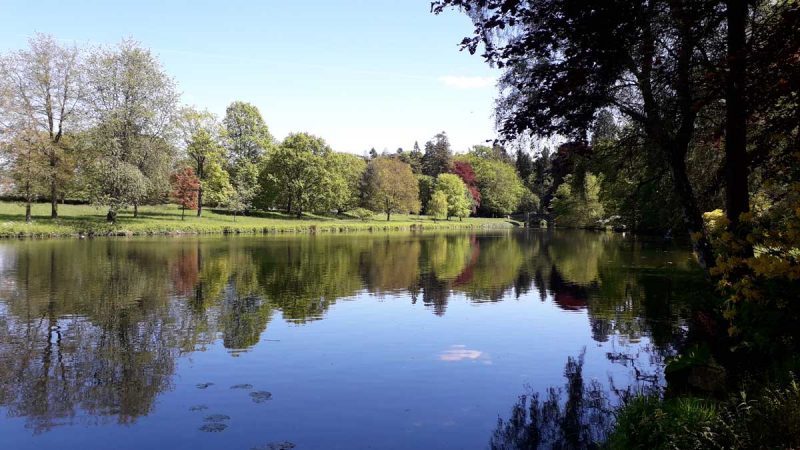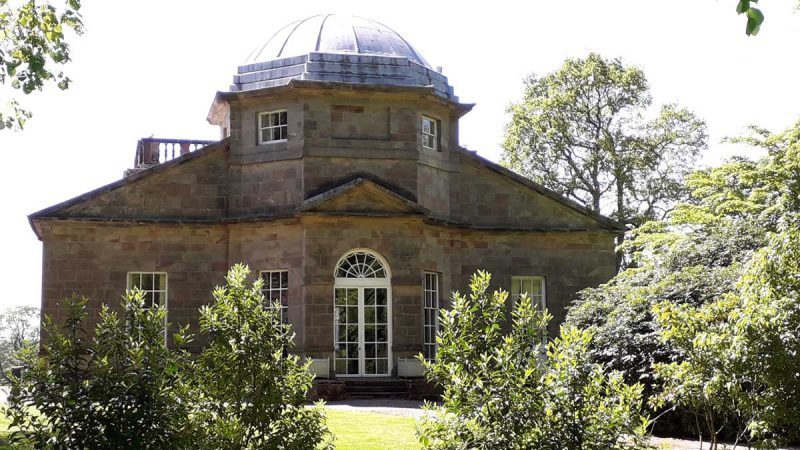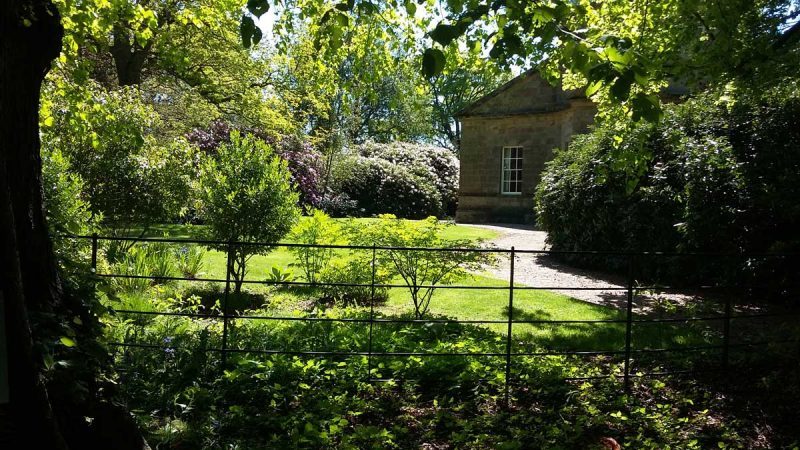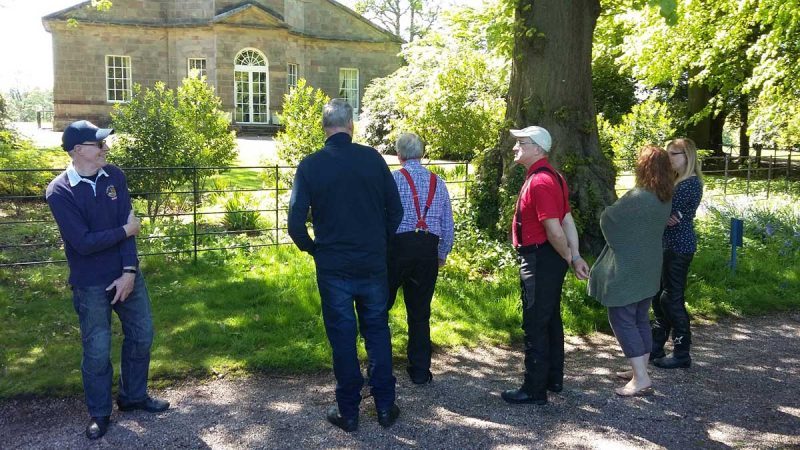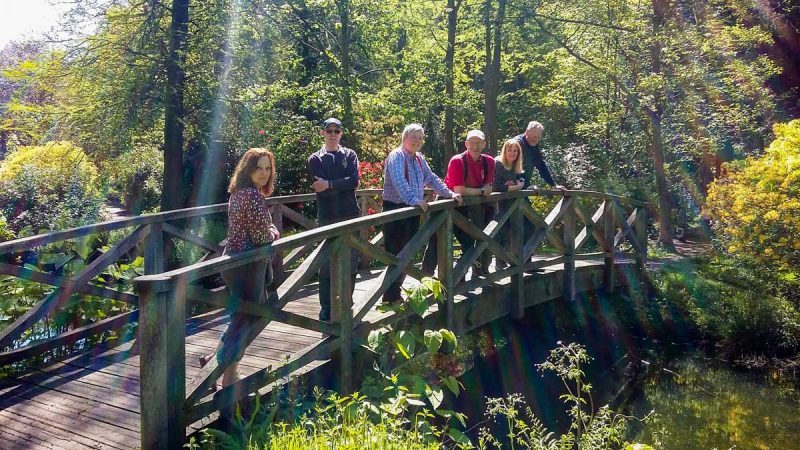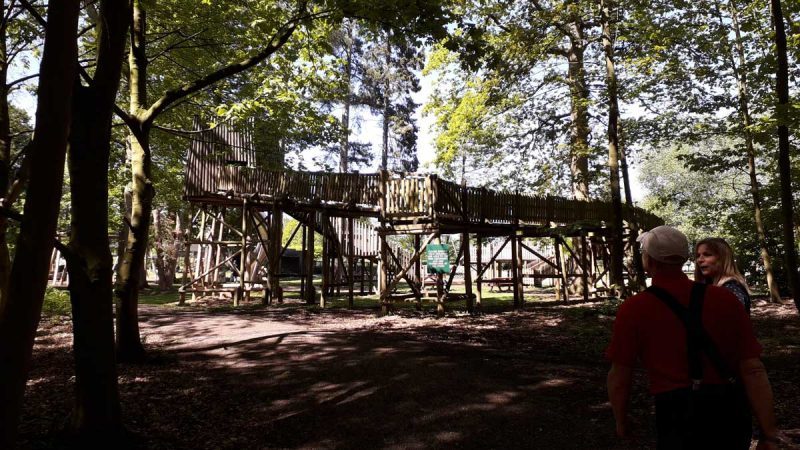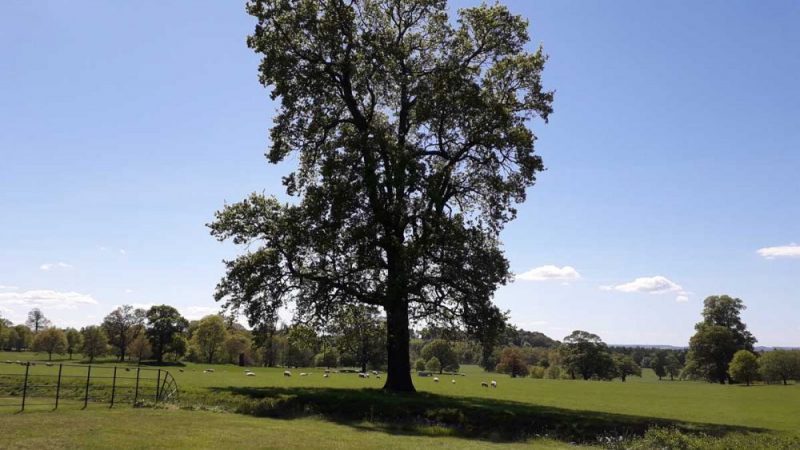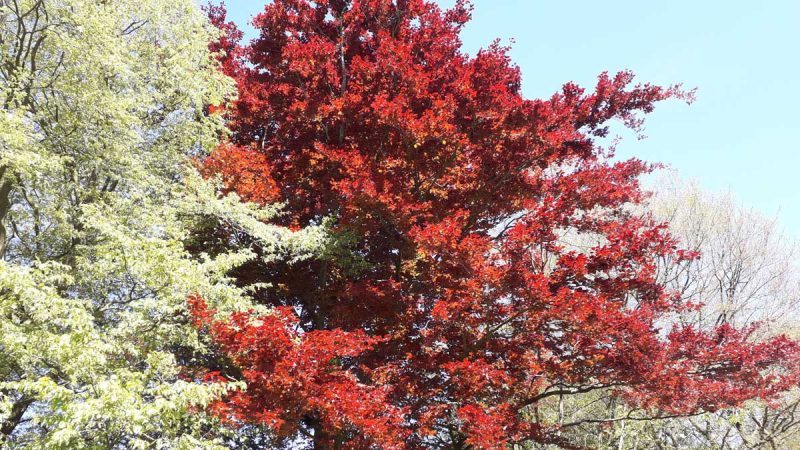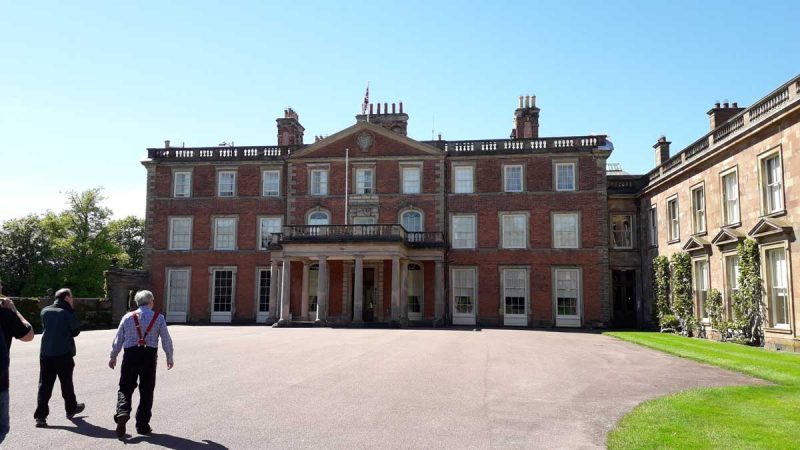 Ride Leader – Charles Bridgeman
Tail End Charlie – Glyn Jones
Photos courtesy of Ken Swinton & Bill Croxon
Sadly the weather forecast for this ride was spot on. OK in the early morning, raining in Bala and raining even heavier in Aberystwyth. That said, we all need some practice in the wet just to prove how good modern tyres are and to keep the confidence levels up. Some members took the instruction for the early stage of the ride to 'follow the signs for Lake Vyrnwy' too seriously and took the scenic route, happily they were not lost permanently and all gathered on the shores of Lake Bala for a coffee/comfort break. Onwards to Aber to find that an unfortunate sole had driven his vehicle into a ditch on the mountain road leaving only enough space for motorcycles and city cars. Those with motorhomes, of which there were many faced a test of their reversing skills. No turning points on these roads! Ride leader Alex Hutchinson-Collier did his daily good deed and warned approaching drivers of the obstacle ahead. As our group of around 15 bikes approached Aber the skies began to clear with even a hint of sunshine breaking through. The ride back via Newtown and Welshpool was in almost glorious sunshine providing a chance to dry our kit. The guess the mileage competition was won by Glyn Jones our Tail End Charlie who was only 2 miles short of the actual mileage of 187.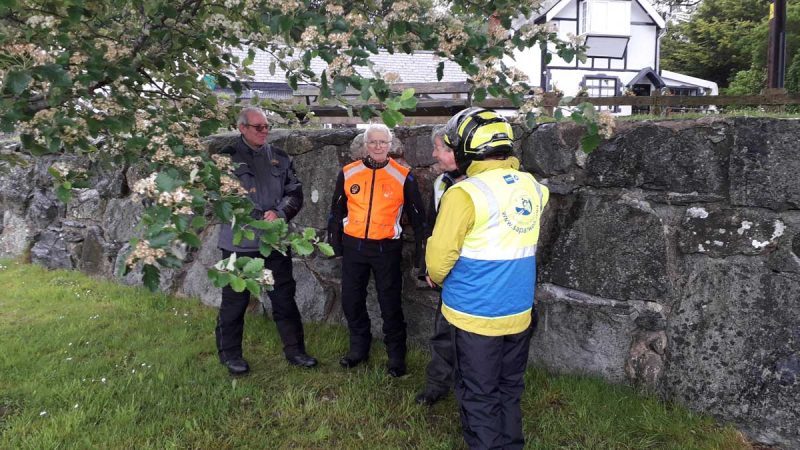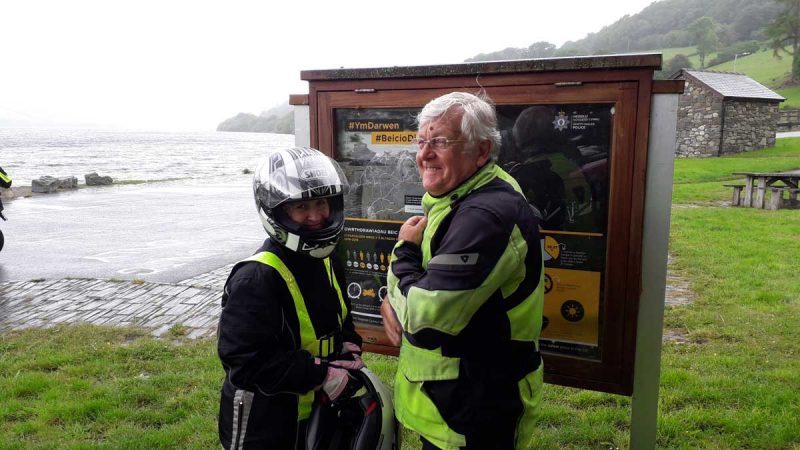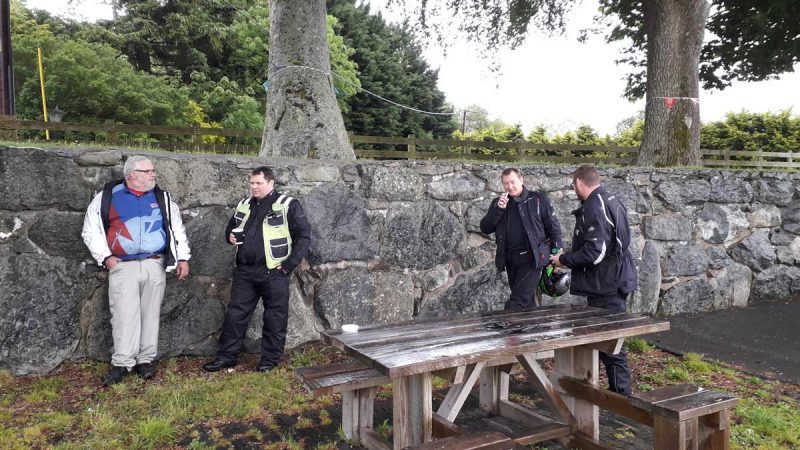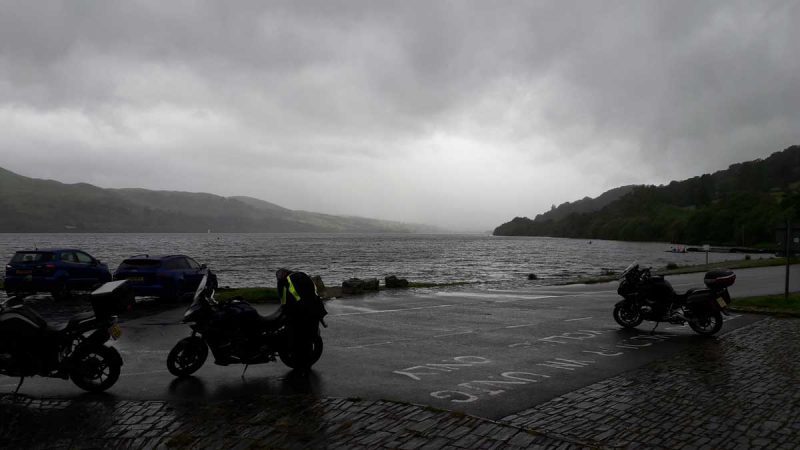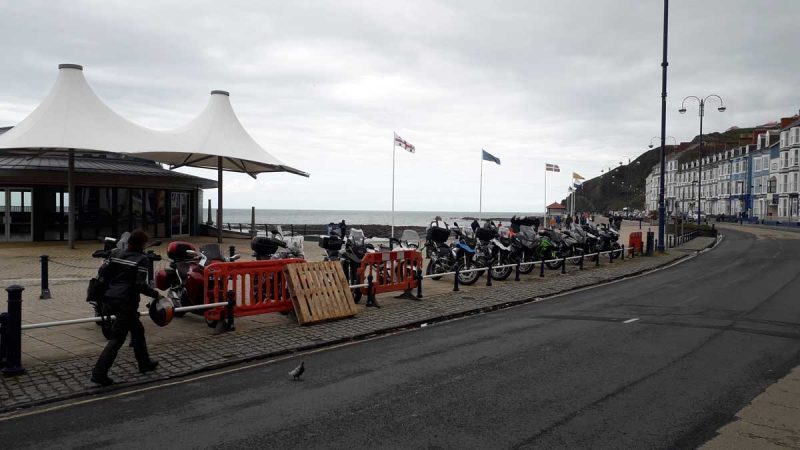 Ride Leader – Alex Hutchinson-Collier
Tail End Charlie – Glyn Jones
Photos courtesy of Ken Swinton
Stuart and Sally McMillan and the weather gods had conspired to make it a perfect day for riding. Cool at first rising steadily to a not too scorchio temperature in the afternoon. The ride took us on a scenic route over the mountains to the quaint railway station at Bala. After a break we ventured onwards towards Porthmadog where we stopped at Eric Jones Café for lunch. If anyone thinks that motorcycling is dangerous then see the photos for real danger on the rockface opposite the café. Mad fools. After lunch we made our way back towards Shropshire and Rhug for afternoon coffee from where the group dispersed in many directions. There were 13 bikes and 15 riders and passengers at the start of the ride gradually diminishing during the course of the day. The mileage calculated from Montford Bridge back to Dinkies Diner was 181.8 miles and the Guess the Mileage competition was won by Jon Hepburn who was closest with a guess of 182 miles.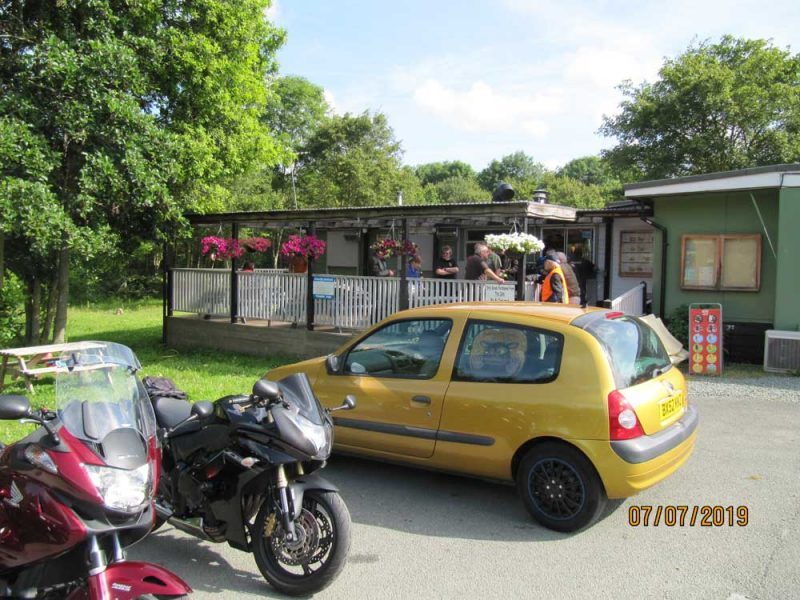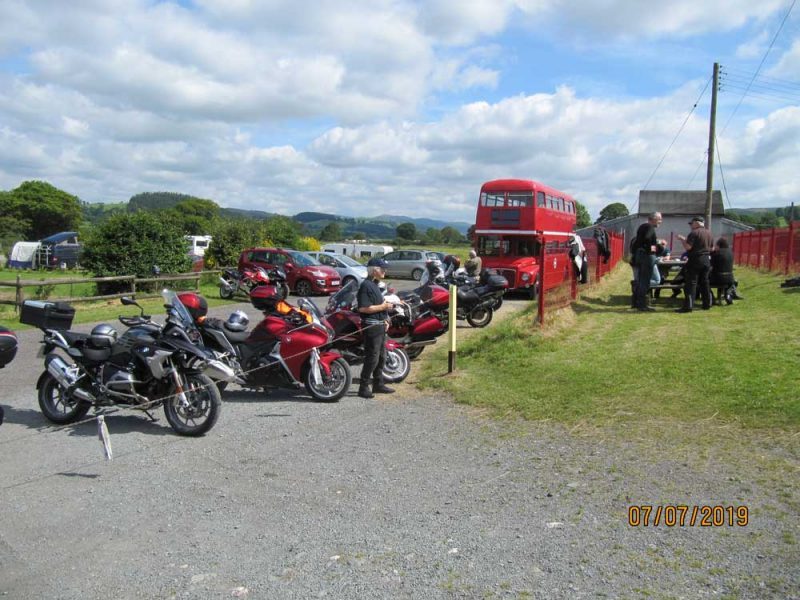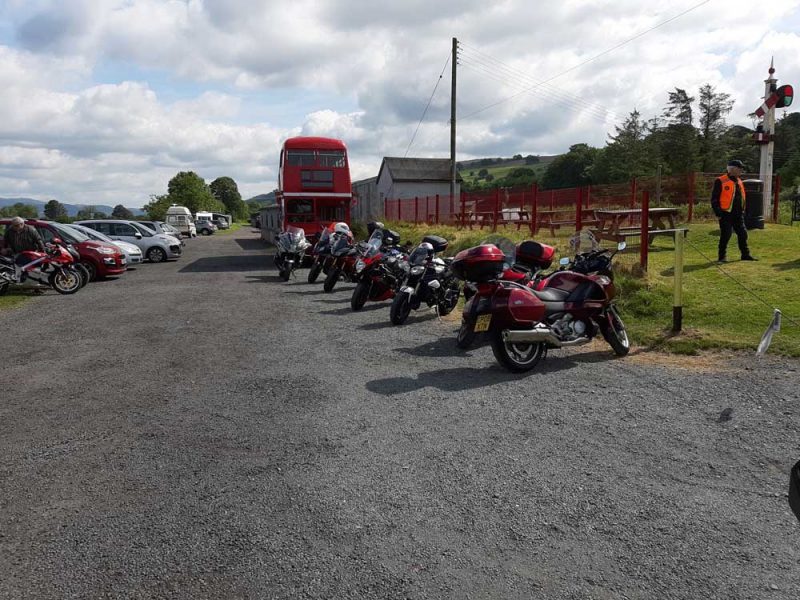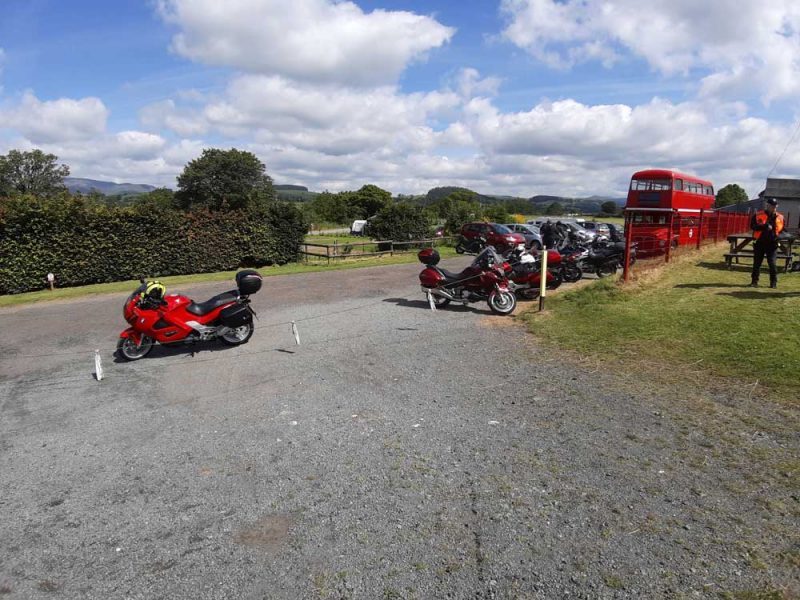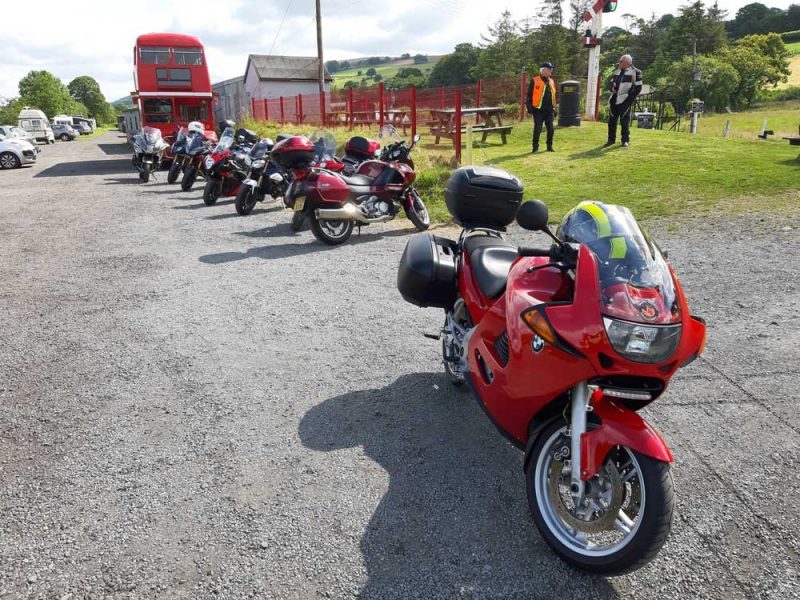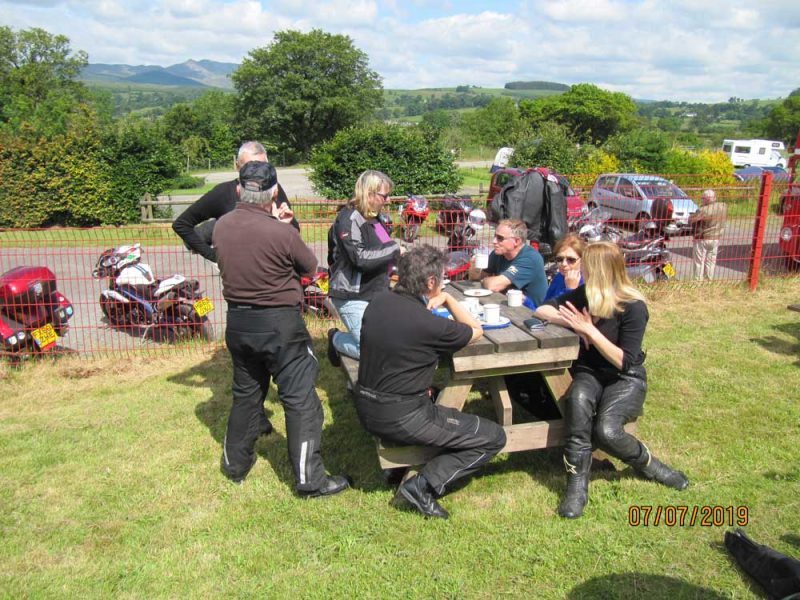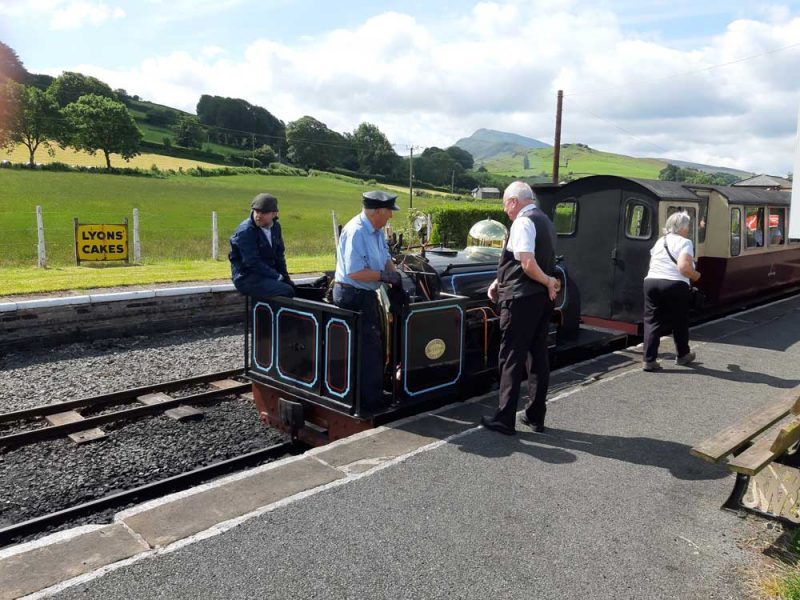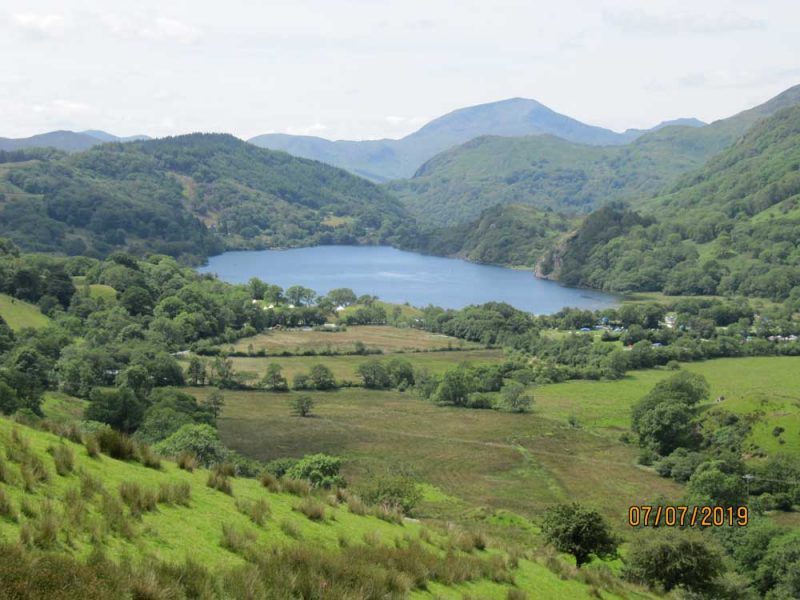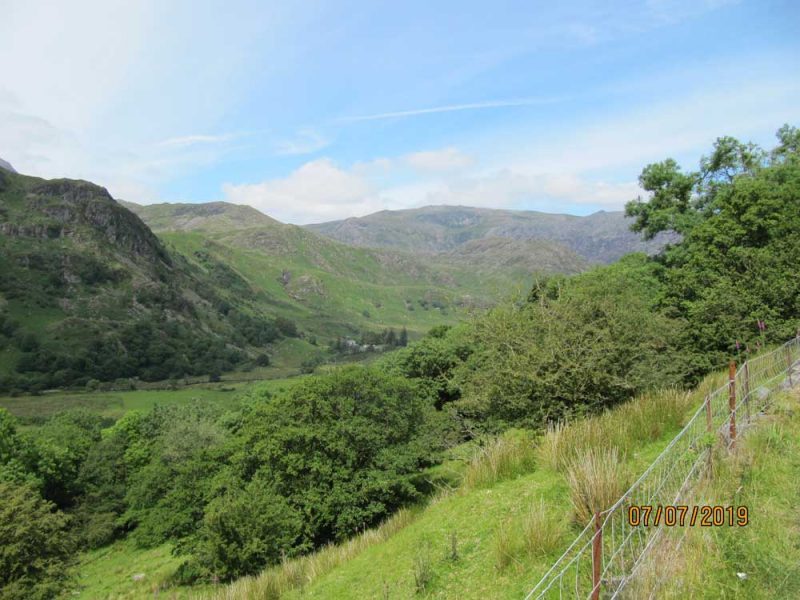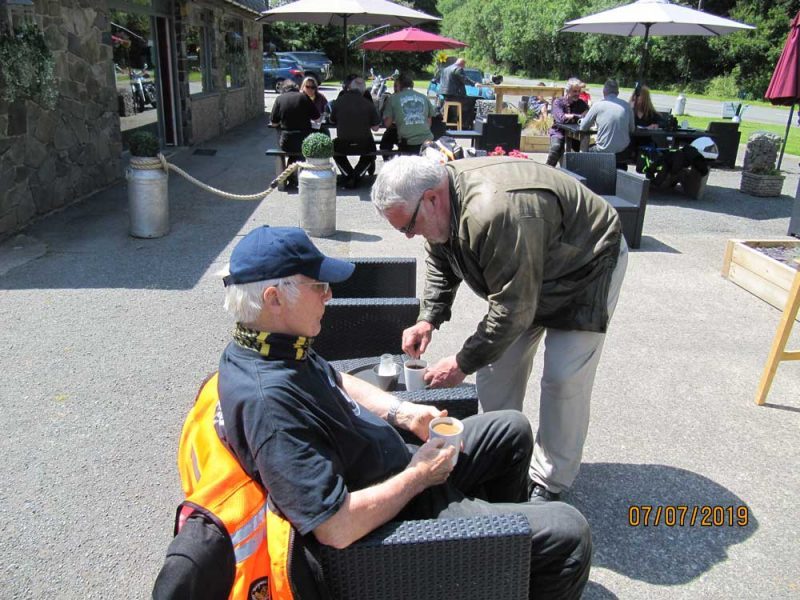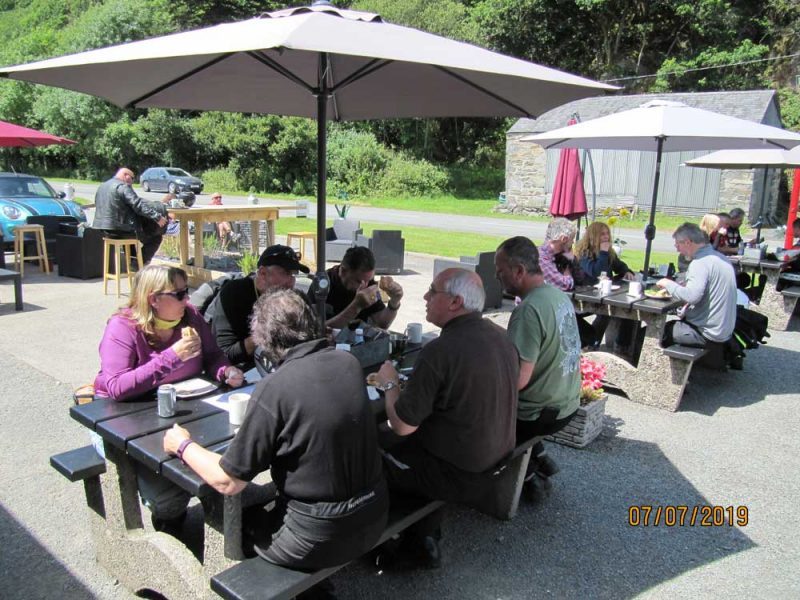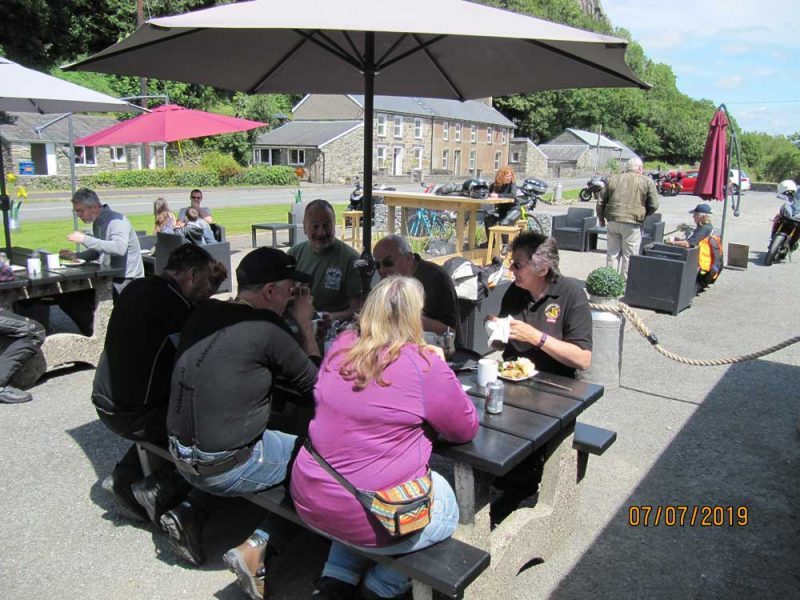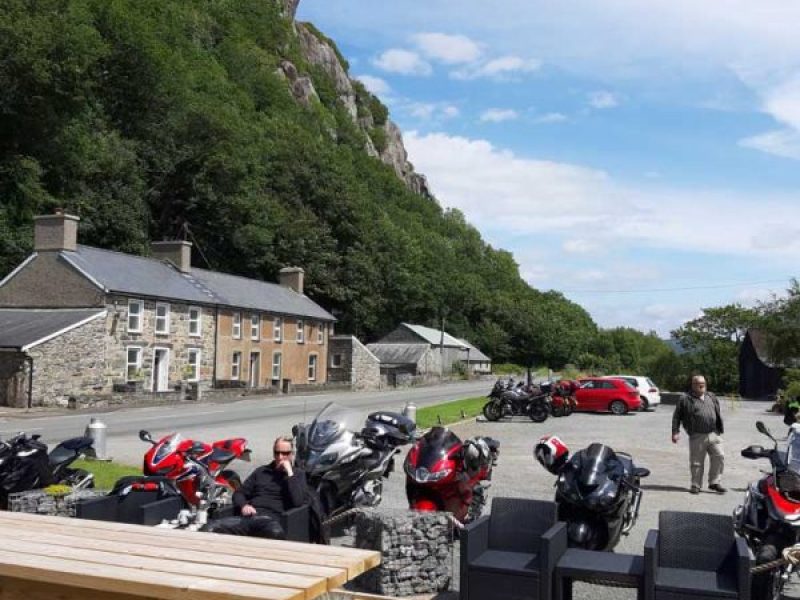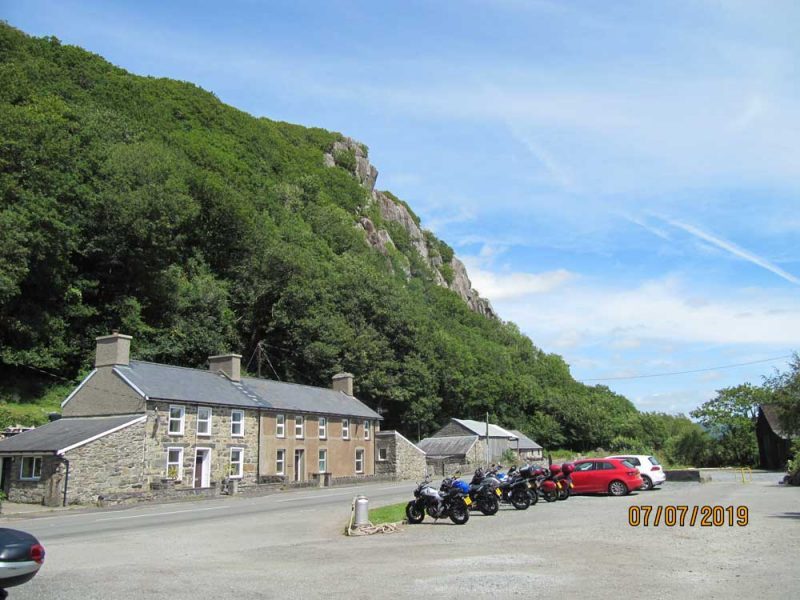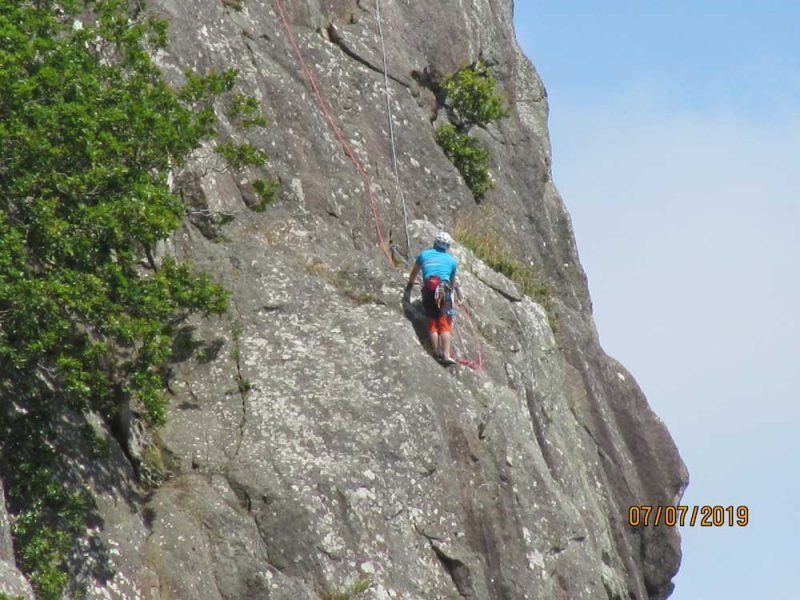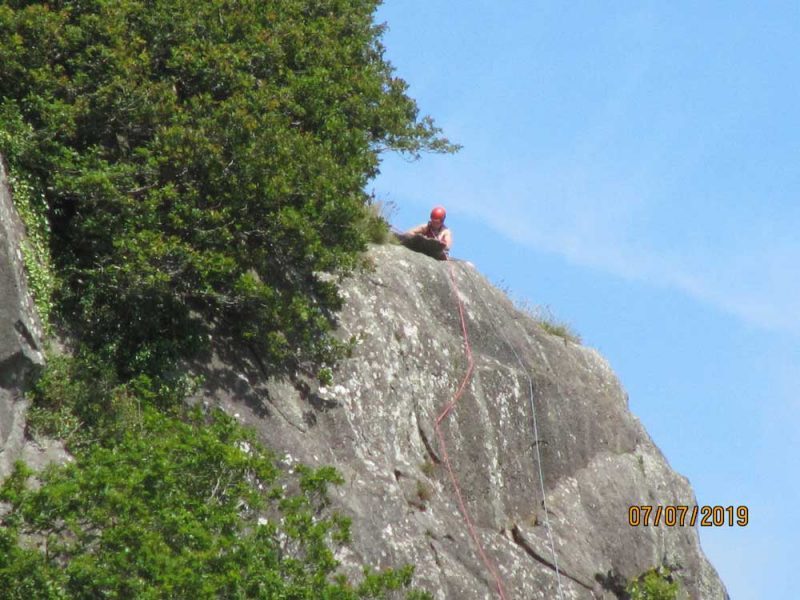 Ride Leader – Stuart and Sally McMillan
Tail End Charlie – Glyn Jones
Photos courtesy of Robin Padgett & Ken Swinton
4th August – Broseley Festival
This months rideout coincided with the Broseley Motorcycle Festival, strangely held in Broseley, Shropshire. The weather forecast was also promising rain for the afternoon so the actual ride was shortened a bit to avoid the tempest that was expected. The ride started as usual from Montford Bridge picnic area in Shrewsbury following a scenic route via Montgomery and Abermule along the Newtown By-Pass then the A483 to Crossgates for refreshments. After our break we headed through Craven Arms, Much Wenlock and into Broseley only to find that the festival was coming to an end. Never mind we enjoyed the ride and escaped dismantling the stand.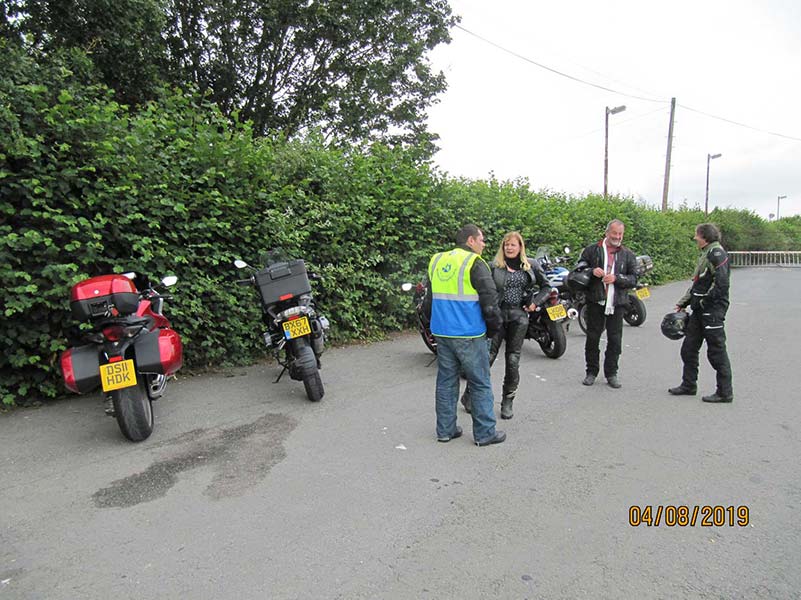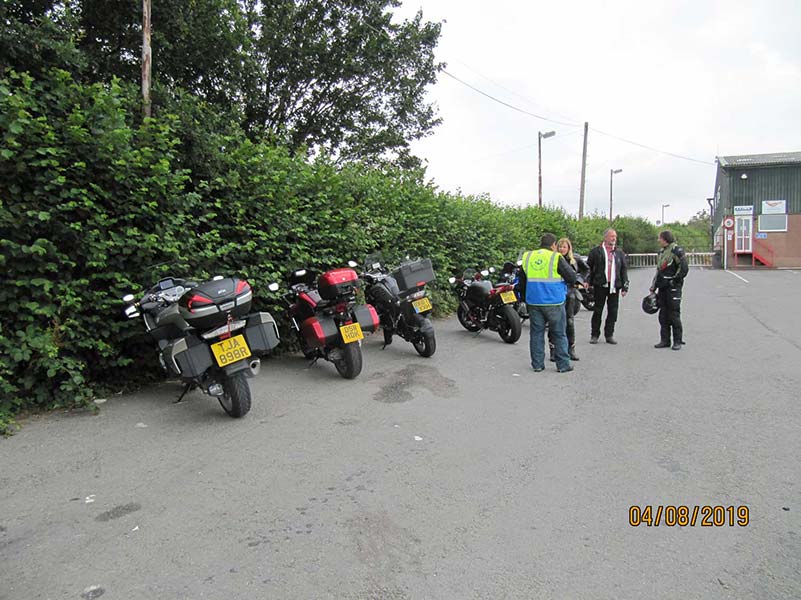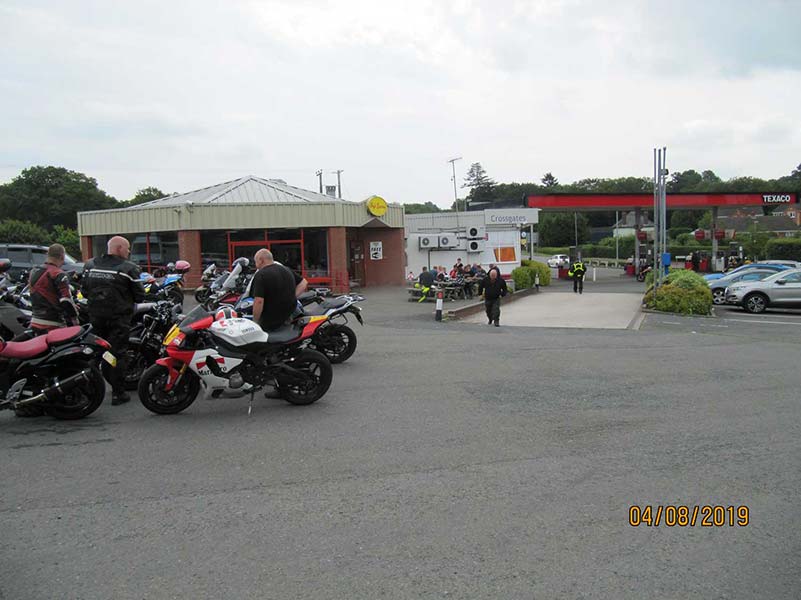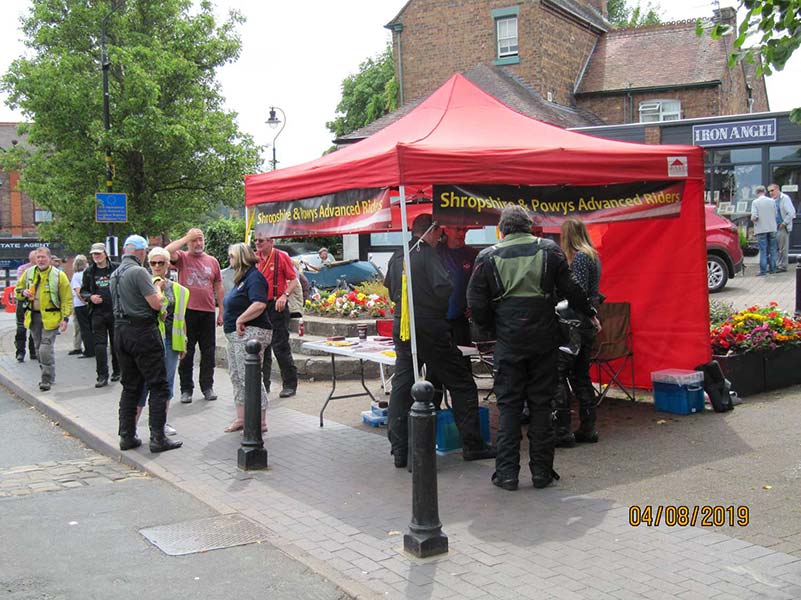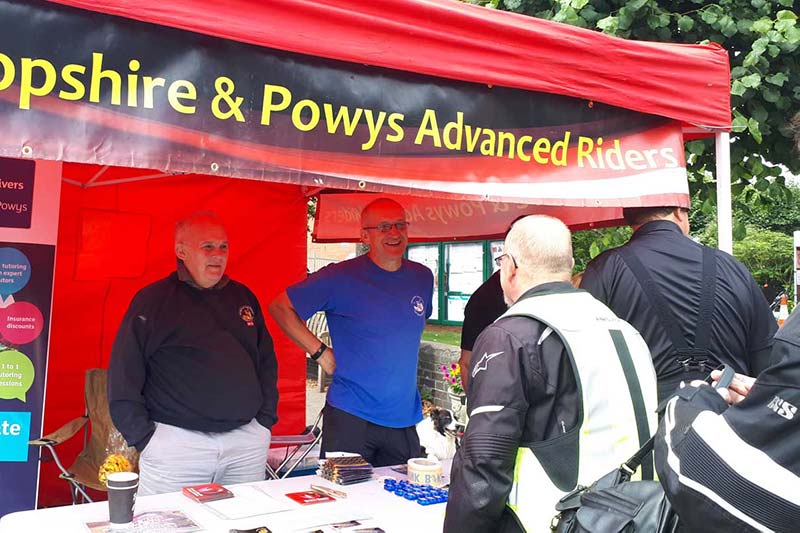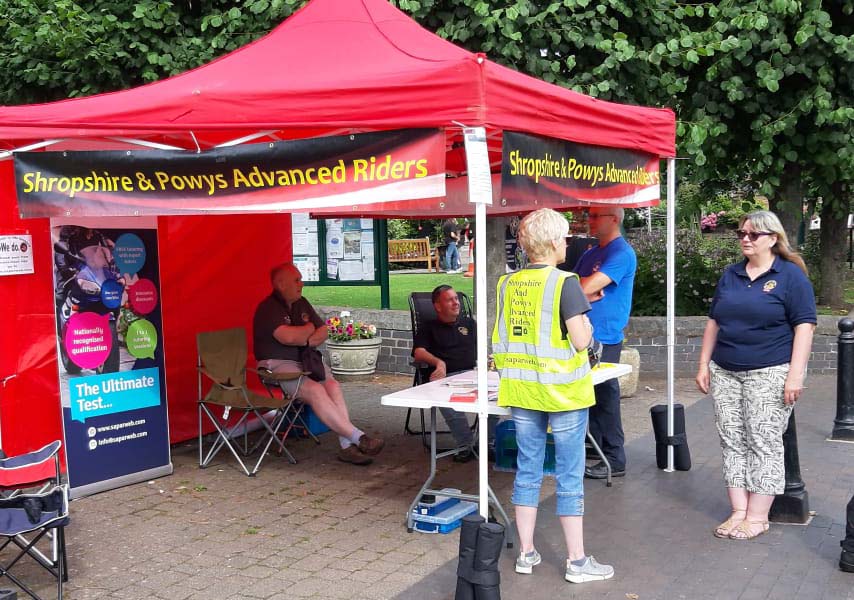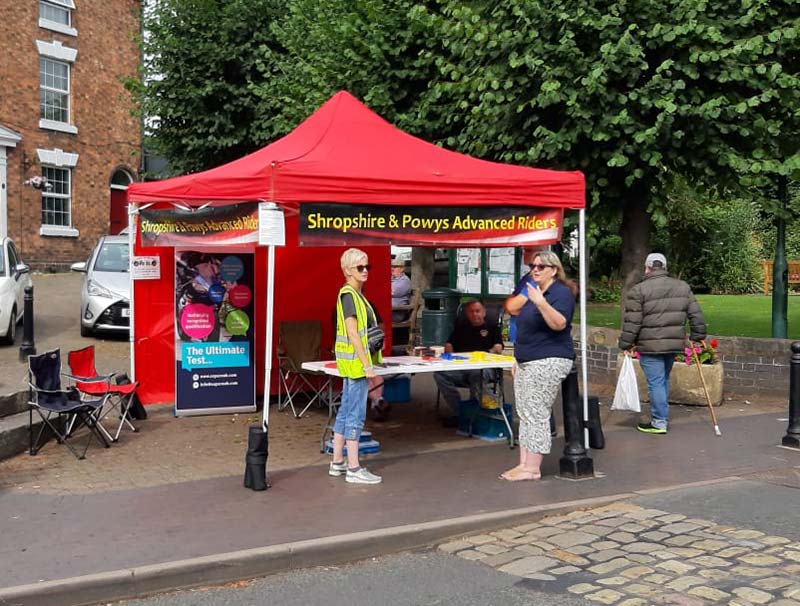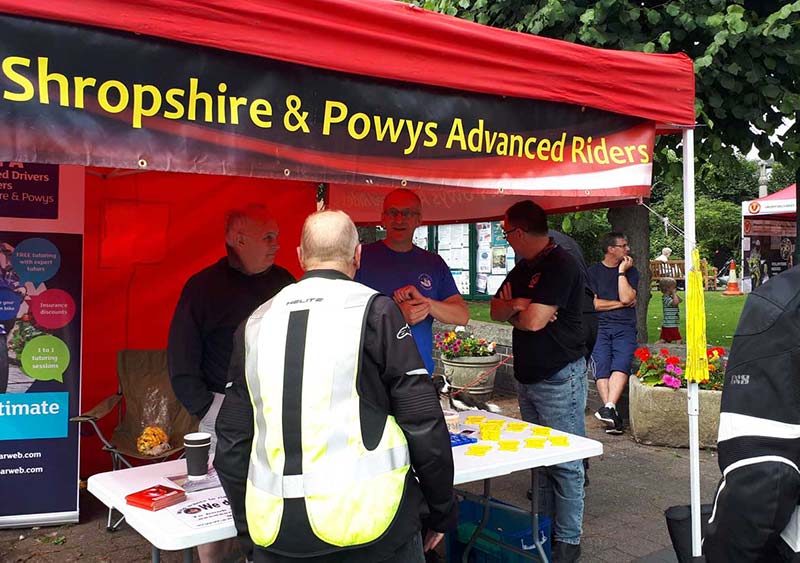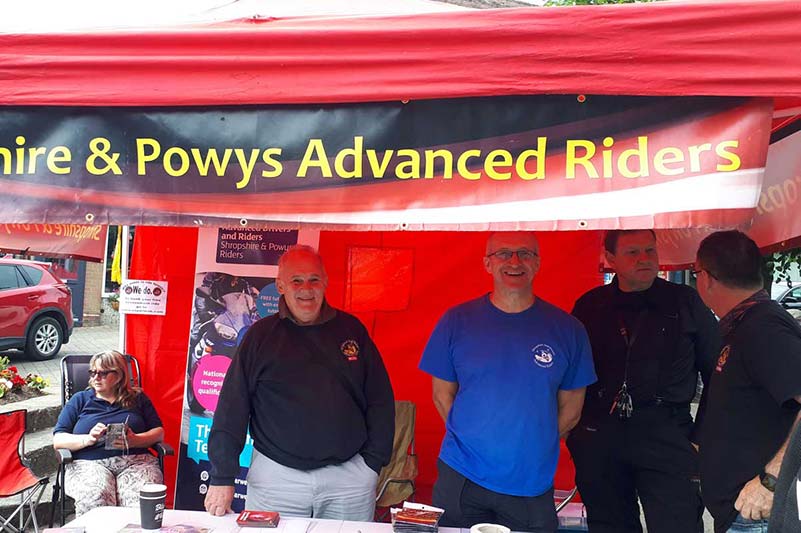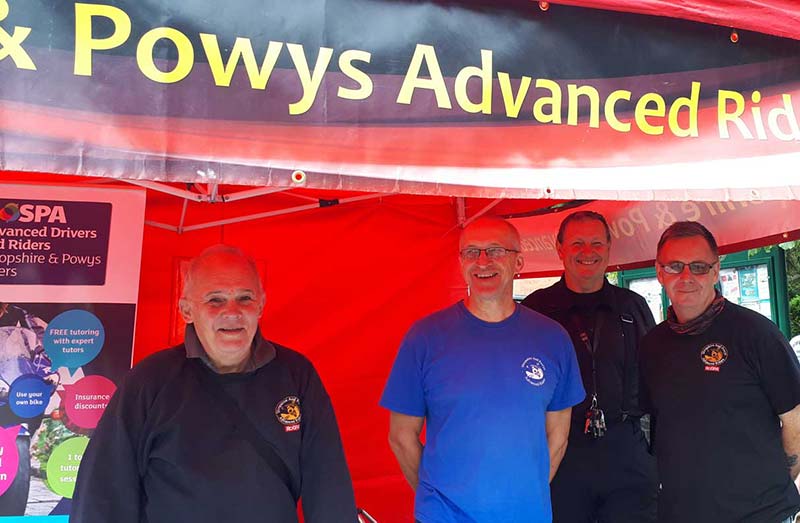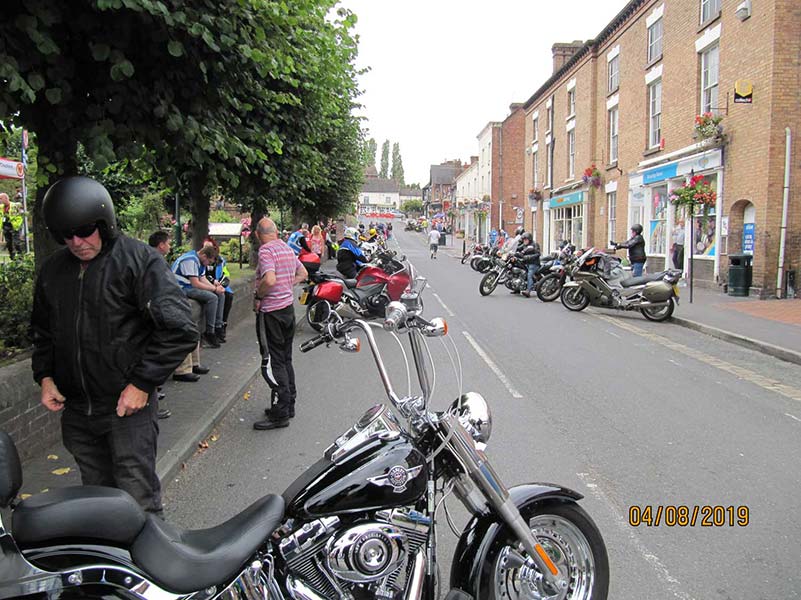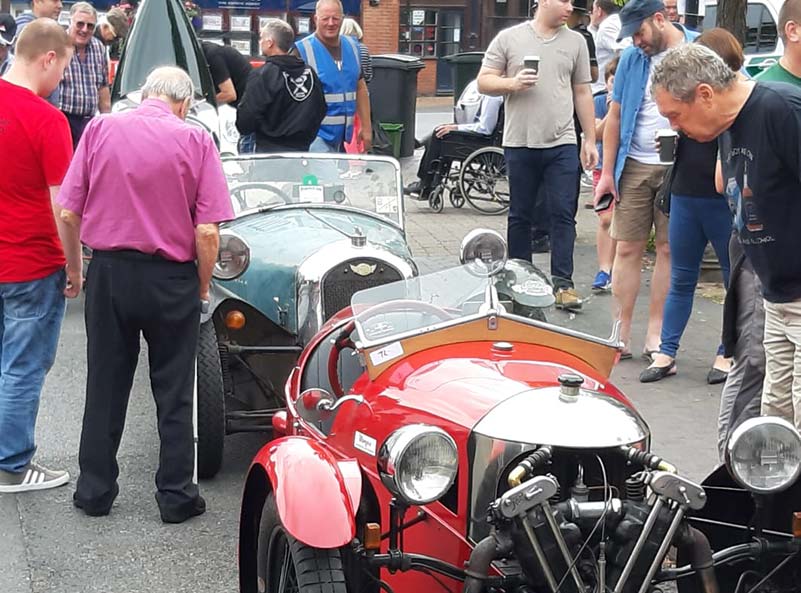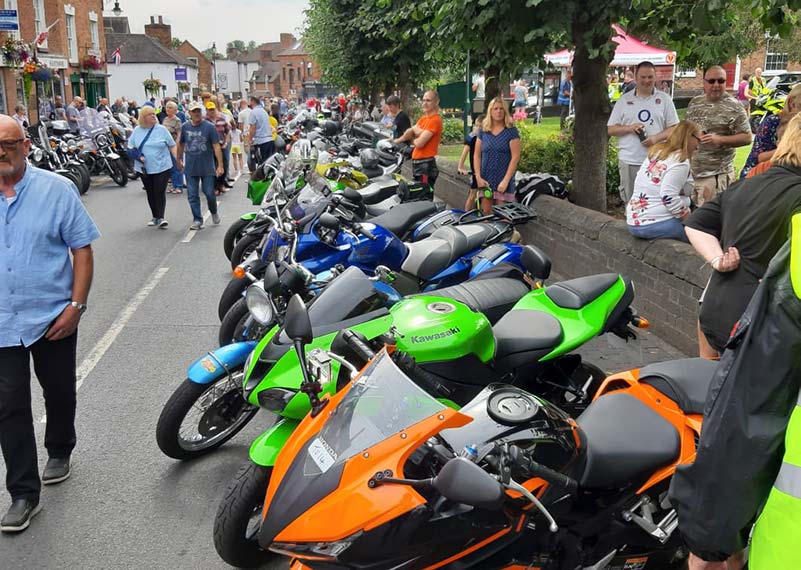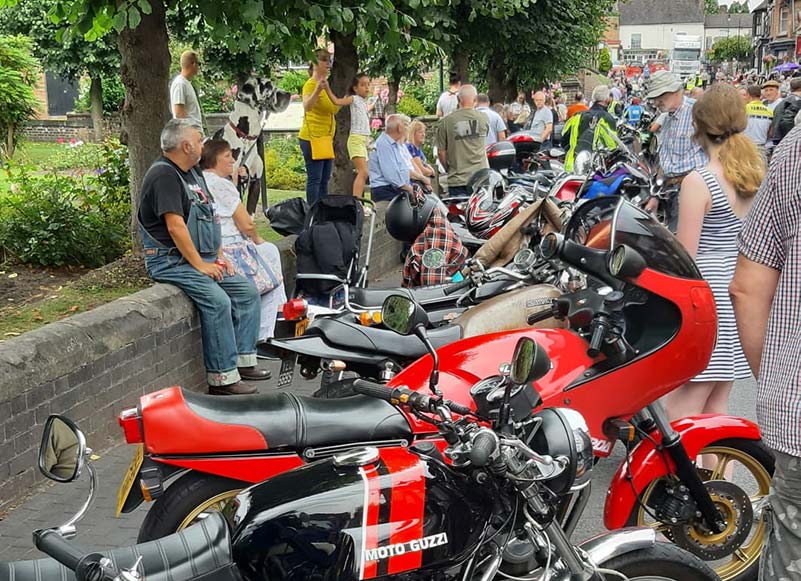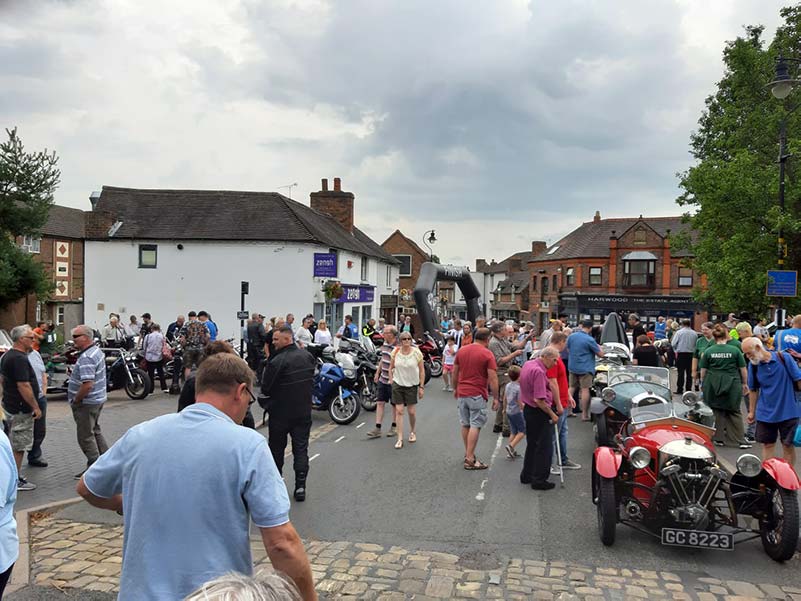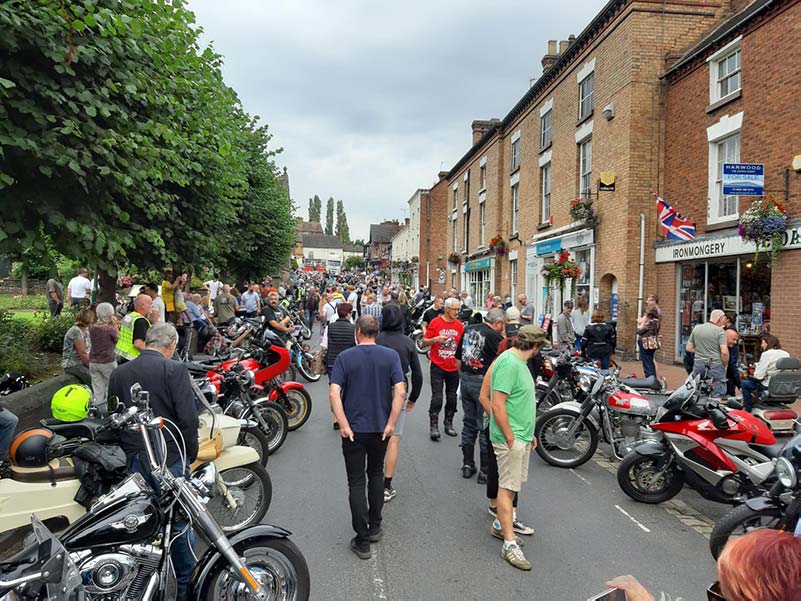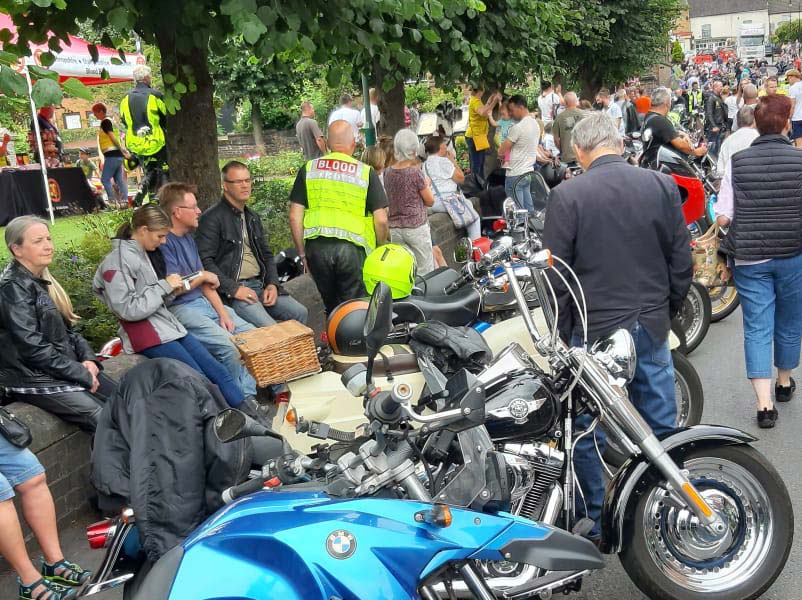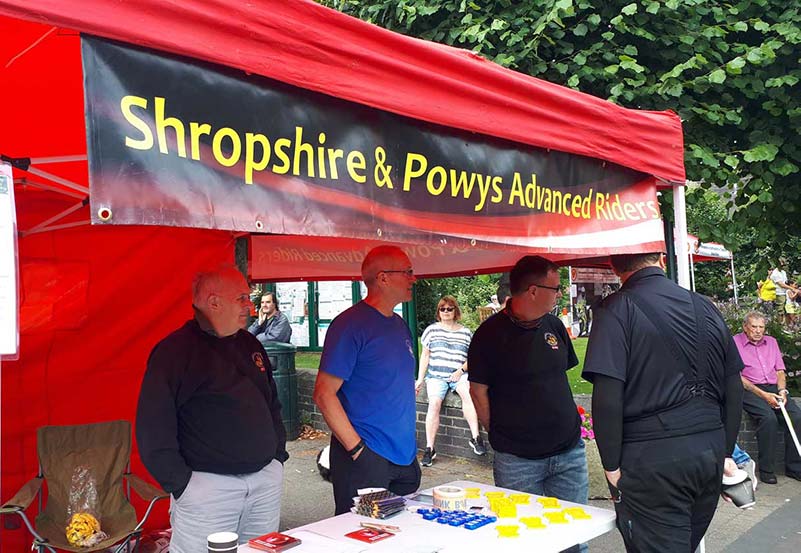 Our rideout this month was led by Charles Bridgeman. As usual we gathered at the Montford Bridge picnic area and after coffee and the ride brief we ventured off towards Church Stoke and a comfort break at Clun. Suitable refreshed we then headed to Crossgates for a leisurely coffee break. Lunch was at The Crown Inn in the heart of the picturesque village of Dilwyn. Our afternoon break was at the Secret Hills Discovery Centre at Craven Arms after which members dispersed in the general direction of home. The guess the mileage competition was won by a new member Hugh Trevor-Jones who was closest to the planned mileage of 144.7 miles with a guess of 142. The kitty was shared between Charles and Hugh.
Ride Leader – Charles Bridgeman
Tail End Charlie – Tim Moore
No photos this time.
6th October – Ponderosa – AGM
Todays ride led  by Alex Hutchinson-Collier was a shorter than usual event due to the AGM to be held at 15:00 at Snailbeach Village Hall. The route took us through some interesting lanes in the morning stopping at Bala for morning coffee and an opportunity to catch up with other members. From here we ventured on a scenic route to the Ponderosa on Horseshoe Pass for lunch after which we made our way to the AGM. No photos this time, there are many, many photos of Bala in these posts and far to wet and windy to be snapping at Ponderosa.
Ride Leader – Alex Hutchinson-Collier
Tail End Charlie – Tim Moore
Todays ride was led  by Alex Hutchinson-Collier and in view of the expected weather conditions and the condition of some roads was shortened and confined to mostly larger and straightforward roads. An unexpected but very pleasing number of members arrived at Montford Bridge for the start of the ride and included new members and a guest bringing the number of bikes to 17. After coffee and the ride brief we ventured off taking the scenic route to the Ponderosa Cafe via Ellesmere and Wrexham. After lunch we meandered back again taking a scenic route to Montford Bridge for coffee before heading home. The guess the mileage competition was won by Gary Santry who was closest to the actual mileage of 76.5 miles with a guess of 82 miles.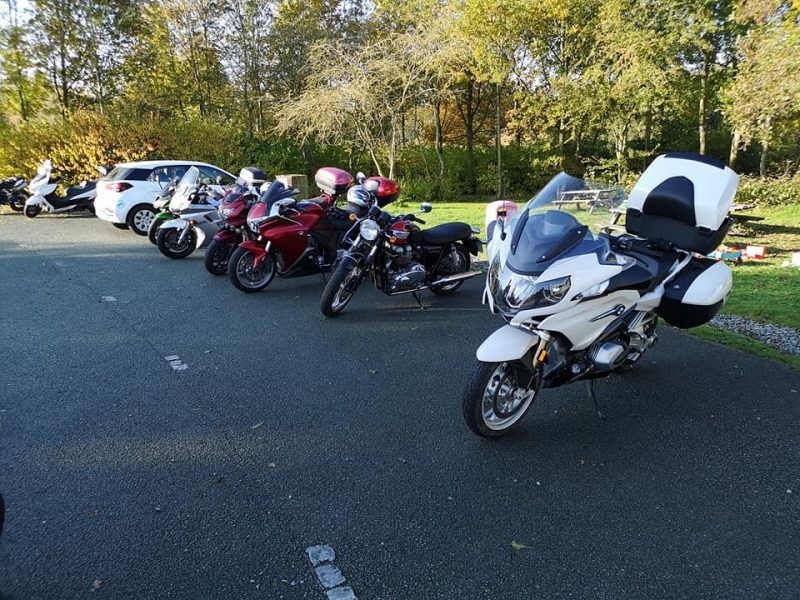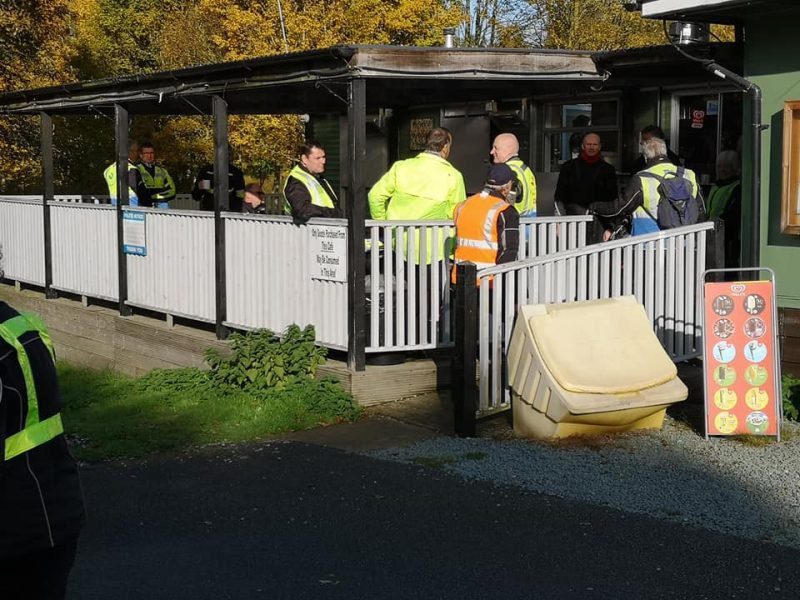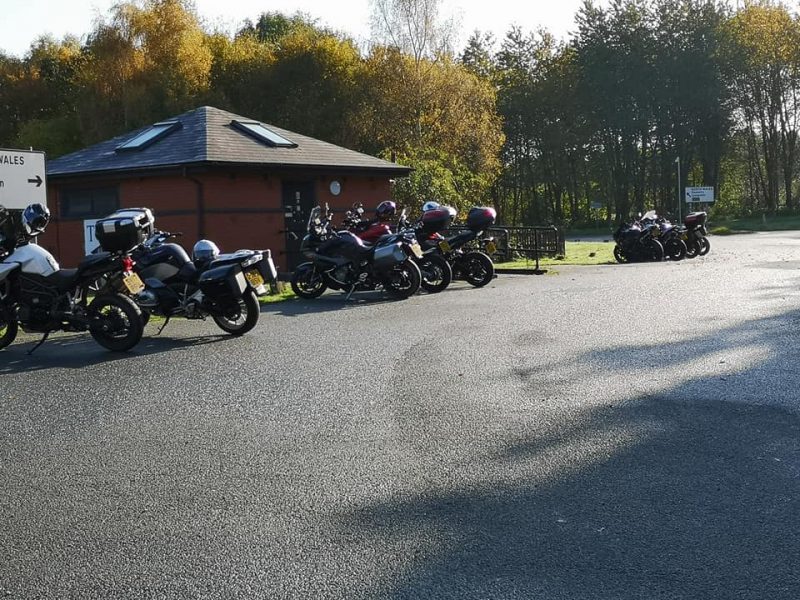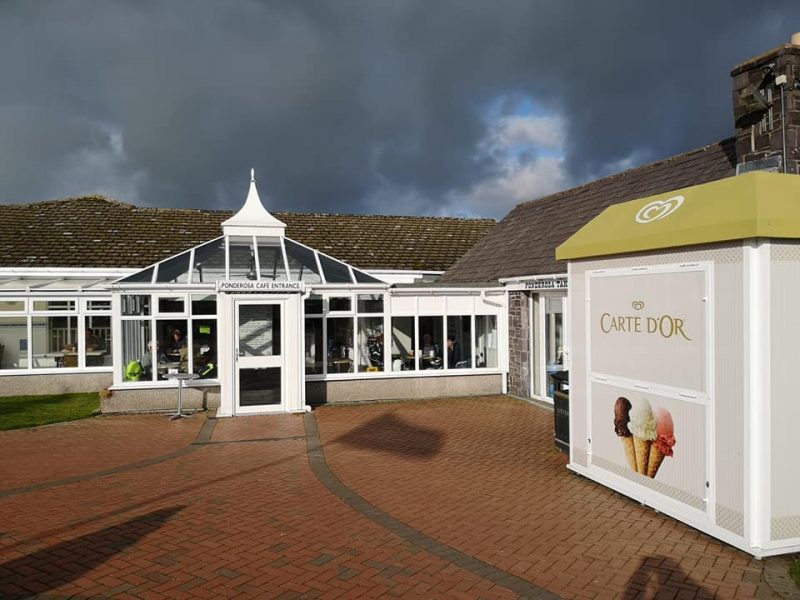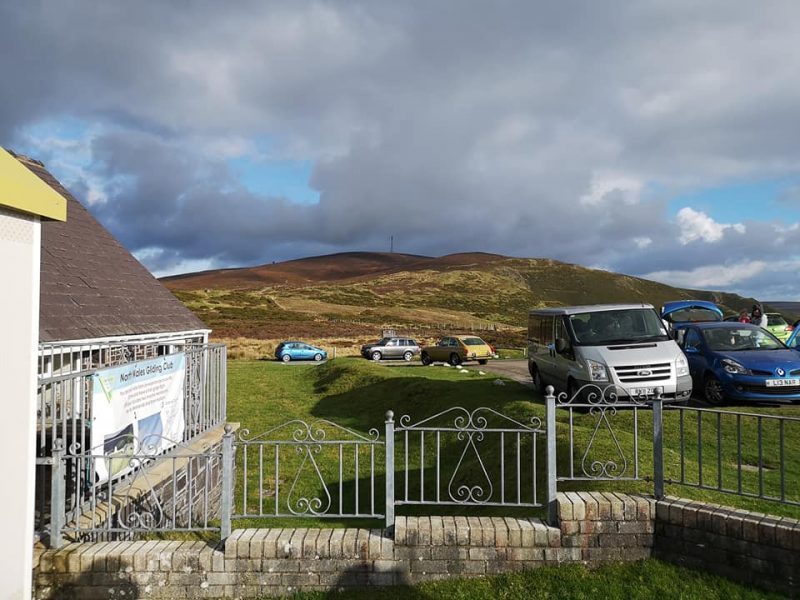 Ride Leader – Alex Hutchinson-Collier
Tail End Charlie – Ken Swinton
Photographs courtesy of Simon Plevin