We, generally hold a public assessment day at least once a year, more if there is enough interest. Assessments are completely free, there are no hidden charges. Assessments should take approximately 1 hour including a pre ride briefing and post ride debrief.
Along with your roadworthy motorcycle, you will need to bring the following documents: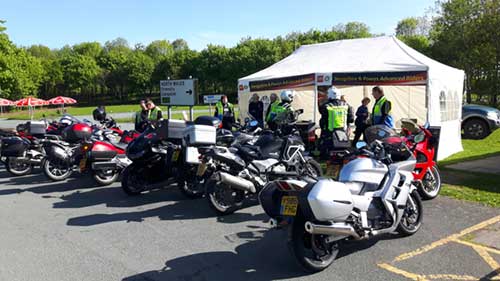 Click on this link to access proof of road tax (print a copy to bring with you)
https://www.vehicleenquiry.service.gov.uk/
Click on this link to access driving licence information (print a copy to bring with you)
https://www.gov.uk/view-driving-licence
You will also need to complete an eyesight test. You must be able to read (with glasses or contact lenses, if necessary) a car number plate made after 1 September 2001 from 20 metres.
Failure on any of the above will result in no assessment being conducted.
Eligibility – Assessment Days are open to full licence holders with category A1, A2 and A entitlement.
See our 'Rideouts' page for a location map Last years planned assessment day was held on Sunday 19th May 2019 at Montford Bridge Picnic Area in conjunction with SAMM the local IAM group.
To enquire about, or to arrange an assessment,  from the Menu, select 'Other' then 'Contact Us' then choose 'Training/Assessments' from the list. Leave your details and our Training Coordinator will get in touch with you.