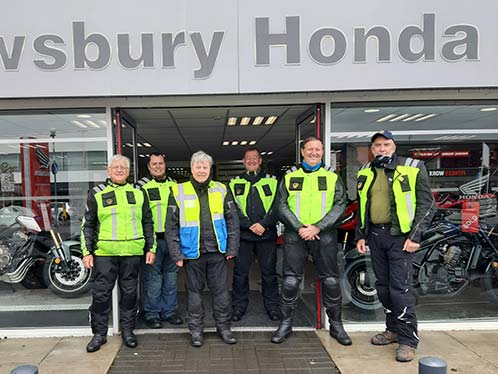 Finally it looks like Covid-19 is under control and SaPAR members and other motorcyclists are able to get out and about more now that travel restrictions have been eased.
With that in mind SaPAR arranged a refresher day held at the Shrewsbury Honda Centre, primarily for members, to come along and have an hour with a tutor to check that they have not become too rusty during the lockdown period. Tutors observed them on a ride then provided feedback on any areas that need to be practiced.
Thirteen members took advantage of the event with some interest also shown by visitors to the Honda Centre. Steve also arranged for bikes to be available and many were taken out for test rides, so hopefully more sales for them.
Our thanks to all of the tutors and other members who went along freely giving their time and skills and, to Steve and others at the Shrewsbury Honda Centre for accommodating us for the event.
Watch this space for future events that we may hold for members and non-members in the future. If you are interested in having your riding assessed please see the following information.
We generally hold a public assessment day at least once a year, more if there is enough interest. Assessments are completely free, there are no hidden charges. Assessments should take approximately 1 hour including a pre ride briefing and post ride debrief. Along with your roadworthy motorcycle, you will need to bring your driving licence and sign a disclaimer before the assessed ride commences. In addition to your bringing your licence you will also need to complete an eyesight test. You must be able to read (with glasses or contact lenses, if necessary) a car number plate made after 1st September 2001 from 20 metres.
Eligibility – Assessment Days are open to full licence holders with category A1, A2 and A entitlement.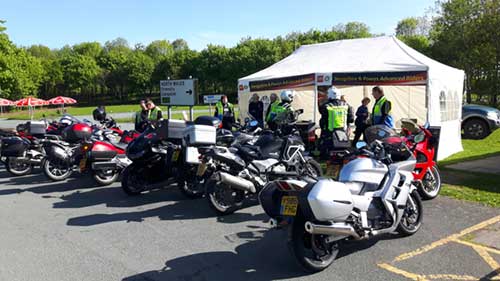 To enquire about, or to arrange an assessment:
From the Menu, select 'Other' > 'Contact Us' then choose 'Training/Assessments' from the list.
Leave your details and our Training Coordinator will get in touch with you.